Gold Laundry Bag
Gold / Mustard Yellow Commercial Laundry Bag Carry Sack
Commercial eyelet and cord laundry bag in flat weave polyester cloth for carrying quantities of laundry. Ideal for professional use or university. Barrel bag shape with circular base this bag will hold multiple washing loads. Select from large range of stocked colours or other colours made to order. Large top circumference / waist is 142 cm (56"). Height 85cm (33" high).
All product codes starting P and CD are heavy duty 200gsm fabric - 33% heavier than the 150gsm fabric now used by the competition. The P and CD products also feature stainless steel eyelets for extended service life which are a significant improvement upon the nickel plated brass eyelets that some competitors use. Not all laundry bags on the market have eyelets (which allow the cord to be closed with ease) but the material is simply turned over with the cord inside, which is cheaper to make - as per our product: www.washingnet.co.uk/en/flat-laundry-carry-sack.html

These heavy duty bags are suitalbe for continuous use and not to be confused with domestic laundry bags or nylon style bags that are not as easily washed and dried as woven polyester.
*** VOLUME DISCOUNTS APPLY FOR ANY MIX OF CLOURS OF THIS PRODUCT ! ***

Some competitor products that claim to be 76cm x 101cm in an attempt to sound larger are being measured by pulling the base as far as possible. Our method of measurement of their bags is only 70cm across and x 81cm high (we measure to the base assuming the bag to be full and do not pull the base). Our bags are larger at 71cm across and 85cm high.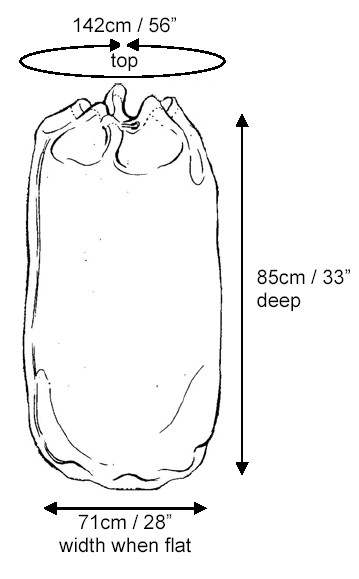 Laundry Bag / Carry Sack P120 Gold / Mustard
£7.49

10 or more £6.99 (any mix!)
50 or more £5.99 (any mix!)
100 or more £4.99 (any mix!)